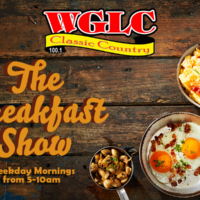 The Breakfast Show

Growing up in Earlville amongst the corn fields, Charles Van Horn finds himself home during The WGLC Morning Show. In his spare time, he works on a collection of old Chryslers from the 1960's that may or may not be on the road at any given time. Charles currently resides in Mendota.
The Breakfast Show – Mornings from 5 until 10 a.m.
Don't miss out on two chances to play the "High Low Game/Crack the Code" and win from Rosati's in Mendota at 6:20 and 9:35 weekdays.
The famous Riddle of the Day each morning at 7:50 brought to you by the Lounge in Earlville
Find out about mayhem of the stupid kind with the Dummy of the Day at 8:10
Brought to you by: Liberty Village of Peru; CGH Medical Center; Heritage Health Mendota; The letters W, G, L & C, the numbers 100.1, and listeners like you.